Play at Home Adventures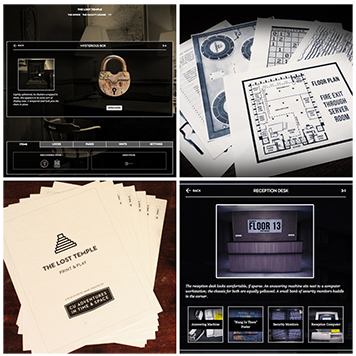 CU Adventures is excited to offer digital escape rooms you can play from home!
Starting at $10 for unlimited players, we currently offer two different different games. Each features a blend of digital documents, audio narration, photos, maps, and other clues you can print out to be immersed in the story while you solve the puzzles!
The custom built online interface tracks your progress across multiple computers, making our games a great option for socially distant game nights played over video chat.
Both games make great gifts and can be sent digitally to friends and family!
Digital + Print and Play editions of the games are available anywhere in the world; however, we are currently only shipping physical products within the United States.
Aside from The Lost Temple and Floor 13, we also created a different kind of home escape room experience called Solve Our Shirts. You can learn more about it at www.solveourshirts.com
Floor 13
You're trapped in your office building after-hours, and you stumble into a place that shouldn't exist. Discover the secrets of Floor 13 and escape the building...if you can! Discover clues, piece together login codes, and go face to face with a haunted computer. Solve the challenges of this slightly spooky escape room from the comfort of home!
The Lost Temple
It's the 1930s and your professor has gone missing! Follow his research, discover the mystery of The Lost Temple and save the world! Explore maps, read through journals, decode cyphers, and examine photographs to solve the challenges of an escape room from the comfort of home.
Reviews
"Whether you're judging The Lost Temple on price, polish, or puzzles, it is going to come out near the top of games created to play during the quarantine."
"The Lost Temple was thus far the most enjoyable online escape room experience I have had. My partner and I each had our own separate "aha moments" and points of pure joy in the game when a puzzle solved in a satisfying way"
"This game instantly goes in as one of our favourite print and play games. The interface was the real star of the show, but it was backed up by a great story and strong puzzles. We have no problems recommending this game to anyone, and chances are we will recommend it to everyone (especially when the price starts at only $10!)"
"This was the best "multiplayer platform" digital game that we've played so far."
"The Lost Temple is an escape room that every self-respecting escape artist should try, especially those who have not yet gamed with CU Adventures in Illinois. "Temple" is an insanely inexpensive option to experience, with an entertainment value far trumping some competitors costing twice or even thrice the admission price."
"We played with way more than the recommended number and it still worked out really well. You'll probably want a separate voice/video chat if you're not in the same household as the people you're playing with, but the web interface is incredible and makes it easy to collaborate with everyone at the same time to solve the puzzles. I was also super impressed that the game is basically fully voice acted. The digital/print-at-home version is only $10 (but you can pay more, and you should)!

Absolutely top quality experience and I hope they make more of these."
"If anyone out there has wanted to try an escape room or already enjoys them, I highly recommend this online one from CU Adventures! It was really very neat and detailed! We had a whole night of fun together at home for a very reasonable $10."